Much earlier in the year, well December 2015, I went to this exhibition and also popped into the one next door of works by Julia Margaret Cameron. I won't have time to write up about her now but if interested here is a quick link to a review.
Gathered Leaves Alec Soth
Alec Soth is a member of Magnum photo agency and focuses on project- based documentary, capturing both people and place…he produces books, has exhibited in many galleries and his work is often described as 'fine art,' reminding me of the article I just read from Witold Krassowski and his question: Is photography an art, or do artists use photography? I don't want to get into that debate just now (there will be a lot of comments like this as I research various photographers as it is always so easy to go off on a tangent and I have to rein myself in…)
It would seem that the photo-book  Gathered Leaves is a more rounded vehicle to present this work with containing:
abstracts of emails and quotes that are more or less pertinent to the work presented. The text contributions bring together a diverse array of email snippets, interview transcriptions, recounts of meetings and quotes from various literary references to create a stimulating and provoking publication.
So a little while back I took myself off to his exhibition, Gathered Leaves, at the Science Museum.
The exhibition blurb read:
Through haunting, intimate portraits, desolate landscapes and wide open wildernesses, his work captures a profound sense of what it is to be human. Tenderness, joy, disappointment, fear or pride – his striking portraits capture the rawness of human emotion and the tension between our conflicting desires for individualism and community.
The first main room, with images from Sleeping on the Mississippi,  was brightly lit, large-ish images displayed on white walls, in uniform white frames and with vitrines containing artefacts for further interest and information. The print size: 40×50 or 50 x40 cms. The exhibition was set out chronologically with Sleeping on the Mississippi, first followed by Niagara etc.
Installation view, 'Gathered Leaves: Photographs by Alec Soth' (© Kate Elliott, courtesy Science Museum)
Gathered Leaves was the title for this retrospective (though Soth doesn't want to call it that as he feels it is pretentious and he isn't that old) ) The Guardian speculated that this hinted at "his ability to chronicle the many – often conflicting – notions of American life that coexist in such a politically riven country, but also his prowess as a maker of photo-books." The show itself is curated around his four major bodies of work/books: Sleeping By the Mississippi (2004), Niagara (2006), Broken Manual (2010) and Songbook (2015).
It left me wondering a tad -does Soth also fall under the same criticism that Krassowski levels at students – that he uses exhibitions as "mere tools for a personal career" and that he is aiming for a "social status," using as he does the media and self-promotion whenever possible? He is described as "a photojournalist, blogger, self-publisher, (he publishes photo-art books through his Little Brown Mushroom press) Instagrammer and educator – someone who understands that today the sharing of the image often seems as crucial as the image itself " or, because he is already established anything he produces 'must be worthy?' and is praised for "his experimentation across exhibition, book, magazine and digital forms." The exhibition's introductory text also encourages us to think about how "gathered leaves" refers to photography as a medium made up of sheets of paper – apt for a self-publisher… It is also a reference to a poem by Walt Whitman, Song of Myself, 1855.
Alone far in the wilds and mountains I hunt,
Wandering amazed at my own lightness and glee,
In the late afternoon choosing a safe spot to pass the night,
Kindling a fire and broiling the fresh killed game,
Soundly falling asleep on the gathered leaves, my dog and gun by my side.
Although found online, it was far too long to read whilst writing this entry ,the gist of this epic poem sought to reflect upon the fractured state of the nation as it headed towards civil war, with each side struggling to maintain their set of ideals and identities. Soth attempts to do the same as he journeyed down the river, capturing both the residents and their environment.
When written about, he is often mentioned alongside names such as Joel Sternfeld – who taught him for a short while – and the likes of Walker Evans, Robert Frank and Stephen Shore. However, some of the odd characters he captures reminds me of Diane Arbus.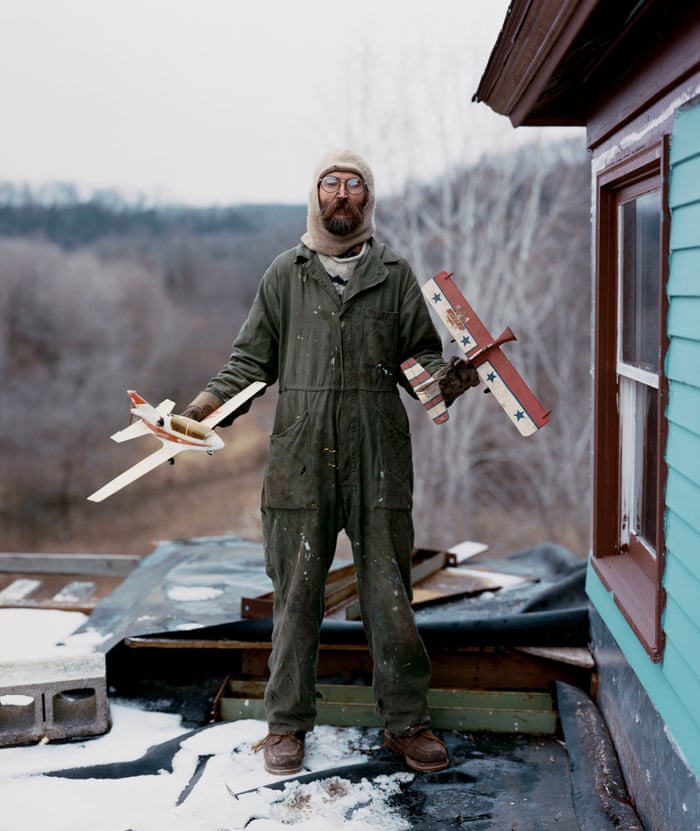 Charles, Vasa, Minnesota, 2002, from Sleeping By the Mississippi Alec Soth
In Niagara (2006), -these images were much larger than in the previous room with frames of natural wood – I found myself thinking about William Eggleston as he sought out the banal and mundane:"drab motels and soul-sapping pawn shops." Does this bedspread remind you of a certain floral sofa? The difference being, whereas Eggleston likes vibrant punchy, eye popping colours, Soth prefers softer, paler hues with a subtler colour palette.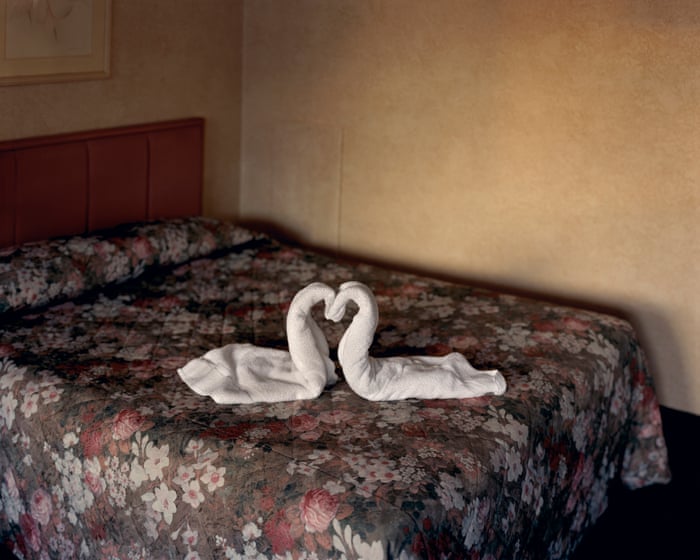 Two Towels, 2004, from Niagara, Alec Soth
As with many who have gone before, such as Danny Lyon, he not only captured portraits of the people, he also photographed extracts from love letters and other artefacts which assist the narrative. Niagara Falls is a popular destination for tourists and  honeymooners yet the underbelly he captures reveals a sadder, more vulnerable and depressing face of love. In contrast to the supposedly joyous events of weddings and gasping at the Falls themselves, it is also apparently a place of "spectacular suicides" and the atmosphere created by the surroundings and situations Soth captures picks up on this undertone.
An insight to his working can be found in this interview with Joerg Colberg from Conscientious.  Another interview can be read here.
2004, from Niagara, Alec Soth
The photo-book Broken Manual seems to answer one of the above questions…apparently it was produced as a very small run before hitting the collectors market for obscene amounts of money! Previously capturing his portraits with a large-format camera mounted on a tripod, Soth's style in Broken Manual shows a "marked and interesting conceptual shift," he used long-lens photography and produced grainy imagery, to mimic surveillance and spy-camera footage, many of the curses of everyday life that these people are trying to avoid. This was a four-year collaborative project, photographing men on the run, monks, lone survivalists and other hermits. Soth teamed up a pseudonymous writer, Lester B Morrison, to create "an instruction manual for escapists….the idea is its a manual for men to run away from their lives…but the manual is broken."
Entering the third room, you come into a darker space, grey-walled with subdued lighting, straight away the mood alters and you get the impression that this series isn't at all like the others preceding it. This underscores the importance of how you curate an exhibition which can be problematic; photographers who work in series need a lot of space to present the narrative as the final images chosen need to still work together and resonate off each other.
Installation view, 'Gathered Leaves: Photographs by Alec Soth' (© Kate Elliott, courtesy Science Museum)
The images themselves were an eclectic mix: there was a monochrome triptych of objects belonging to one of the subjects and is loaded with suggestion: a homemade knife, two mushrooms (magic ones, I laughed but The Guardian also stated "possibly hallucinogenic" so I wasn't the only one thinking that) and an object that I pointed at exclaiming "ha that looks like a ….." but apparently…yes… it was a male sex toy.
Some of these images were definitely unsettling and creepy but definitely fascinating. The image of a lone sparkly disco ball abandoned in the middle of a wood made you wonder who had placed it there, was it one of the people hiding away, did it hold memories for them? A juxtaposition, discos you associate with parties, hoards of people, noise and laughter, none of that appeared evident in this body of work.
USA, 2006. From Broken Manual Alec Soth
On another wall hung a huge print of a naked man standing ankle-deep in a pool of water, whilst gazing intently towards the camera. I had to wonder at why nude? Why not shorts…I mean he still had boots on! Yes I was looking at his boots! Nudity suggests a certain vulnerability but I think his posture, gaze, haircut and the landscape reveals that. I'm no prude, nudity doesn't faze me, I just think it isn't always necessary and sometimes photographers use it for shock value, a talking point and to sell. It can't be argued that the subject was photographed in this manner as he runs around naked all the time, as he has a damn fine tan line! If it was to show this is where he bathes, then get him to sit in it! Another commentator thought it spoke "volumes about Soth's powers of persuasion" yeah…or capacity to manipulate the vulnerable…
USA, 2008. From Broken Manual
This area also  included  vitrines which were a full of his research materials and notebooks along with  maquettes – various editions of each book – and ephemera that further illustrated what his pictures were hinting at. For example a self-published periodical called Improvised Weapons in American Jails, or How to Build Flash/Stun Grenades.
The final series, Songbook, wasn't created as an original series,  [it] "came together from a lot of different but related threads…it wasn't called Songbook in the beginning, but I knew the themes and the feeling that I wanted and then it just took its course." He also believes that this set of images does not have a definite narrative, thinking it is more:
You know, lyrical, whatever. I make this analogy a lot, between poetry and fiction, it's more like poetry. There's elements of narrative in it, and it's suggestive of a story, but it's not…there's no plot.
This was my least favourite section of the exhibition, maybe sub-consciously I was picking up on the fact it was not an actual series unlike his other work, although not knowing that at the time, maybe that's why I felt unable to really connect with it at first viewing. Soth re-edited  work made over the last few years on assignments, news magazines, and through his collaborations with the writer Brad Zellar, twenty-five black-and-white photographs made between 2012 and 2014 – about "80 percent of the work is from a mishmash of various things." Partially, may be it was also due to the fact it looked old fashioned? I have no problem with b&w documentary images, old or contemporary, but for Soth it seemed a step backwards, doing something that has been done before and not adding anything new, attempting to mimic the reportage style of Weegee who he describes as having  "this quality where he's kind of laughing at the world," This he does particularly well, using digital and a strong flash, but I have to ask why, when you have developed a voice of your own and own way of laughing with and at the world?
I fully understand the need to continue to grow and explore but this did feel like a backwards step. I guess part of it linked in with the eventual title of Songbook tying the images to a certain era and maintaining the visual style from then. And the video interview he gave does answer those questions. Soth, wanted to act like a journalist and believed that using black and white gave him more flexibility and a way to reference the past. and a way to capture the insanity of life. Despite not including captions the book does contain snatches of text -lines and verses from a collection of musical works known as The Great American Songbook   Not sure now if the exhibition displayed these lyrics, or did I overlook them? Might have helped with the understanding of the whole section if I had noted them.
The "Great American Songbook" is the canon of the most important and influential American popular songs and jazz standards from the early 20th century. It includes the most popular and enduring songs from the 1920s to the 1950s that were created for Broadway theatre, musical theatre, and Hollywood musical film. The music of this genre is also often referred to as "American standards".
Soth travelled around the country taking pictures of beauty pageants, proms, and prisons focusing on both what has been lost but what is also still there; on community and the loneliness within today's society. For this part of the exhibition the images were large and had black frames which appeared to confine the prints, a bit like newspaper columns do, and yet more vitrines displayed the newspaper format zines produced by Soth and Brad Zellar. Most of the images stand alone, pull together as a series -just- but others I'm not sure as to why they were included. Soth wanted to do something different, not rely on the text or added information he is quoted as saying:
But even still, there's something refreshing to me about letting them just exist purely, or almost purely, as images. The Songbook, it sort of liberated me of that, and the pictures can just exist on their own.
So my final observations – I thought the curation of this exhibition was excellent, with separate rooms given their own atmosphere and the different ways of presenting the work adding to the narrative. Despite originally being created for photo-books I think the series all translate well to an exhibition.
His intentions become clear as he progresses through his work, if something isn't working he has no fear of changing tack. He can work individually or as part of a collaboration. His work does capture "a profound sense of what it is to be human." Soth's subjects obviously feel relaxed and comfortable enough to provide anecdotes, reveal intimate details about themselves and occasionally get naked. I'm still not convinced that sometimes this doesn't feel a little like exploitation. Having waited so long to complete this write up and with a little more research completed I have a better understanding of why and how he did certain things and a greater appreciation for all of the work on display.
As ever there are things you come away with other than the images themselves, you think about the curation, how and why an artist/photographer publishes their work – Soth in particular being multi platformed. I don't see this as an issue, rather these days a necessity – take note Mr Krassowski.
They also need to think about who their target audience is – How work is to be displayed within that format, what type of book, what size run, what size frames for an image, what size print? The list is endless. Alec Soth seems to have managed ok so far and hopefully will continue to do so.
References
Copyright (2016) On songbook: In conversation with Alec Soth. Available at: https://www.icp.org/interviews/on-songbook-in-conversation-with-alec-soth (Accessed: 30 October 2016).
Gathered leaves: Photographs by Alec Soth (no date) Available at: http://www.sciencemuseum.org.uk/visitmuseum/Plan_your_visit/exhibitions/alec-soth (Accessed: 30 October 2016).
Magazine, W. (2015) Alec Soth's intoxicating photographic chronicles of middle America. Available at: http://www.wallpaper.com/art/alec-soths-intoxicating-photographic-chronicles-of-middle-america (Accessed: 30 October 2016).
O'Hagan, S. (2015) Alec Soth: America's most immaculate, intriguing photographer. Available at: https://www.theguardian.com/artanddesign/2015/oct/06/alec-soth-gathered-leaves-photographer-uk-retrospective (Accessed: 30 October 2016).
Reznik, E. (no date) Interview: Alec Soth's tragicomic American songbook. Available at: http://www.americanphotomag.com/interview-alec-soths-tragicomic-american-songbook (Accessed: 30 October 2016).
The center for the performing arts – home of the palladium – Carmel, Indiana (2016) Available at: https://www.thecenterfortheperformingarts.org/Great-American-Songbook-Inititative/About-the-Great-American-Songbook (Accessed: 30 October 2016).
ThePhotographicJournal (no date) The photographic journal. Available at: http://thephotographicjournal.com/interviews/alec-soth/ (Accessed: 30 October 2016).
top, P.B. to (2015) 'Alec Soth's gathered leaves, reviewed by Ollie Gapper', 12 November. Available at: http://www.photobookstore.co.uk/blog/photobook-reviews/alec-soths-gathered-leaves-reviewed-by-ollie-gapper/ (Accessed: 30 October 2016).